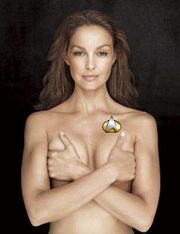 Ashley Judd is an actress... *snicker* ... sorry, sorry, let me start again...
Ashley Judd is an act.... *pfft* HA! Hee hee ho.... oh, man... hold on, one more time...
Ashley Judd isPFAAH!! HAHAHAHAHA!!! Hoho, heehee, haha, ho! Ha ha! Oh, man. Haha! Oh. Heheh. Ah. Damn. Sorry, I can't type that without laughing. Hehee, ho! "Ashley Judd is an actress," that's rich! hehehe, ha, ho. Ah. *sniff* Okay, I'm good.
Ad blocker interference detected!
Wikia is a free-to-use site that makes money from advertising. We have a modified experience for viewers using ad blockers

Wikia is not accessible if you've made further modifications. Remove the custom ad blocker rule(s) and the page will load as expected.