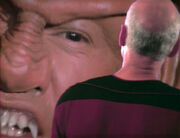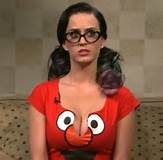 "Have you noticed how your boobs have started to firm up?"
"Not that we care about such things."

Deanna Troi and Beverly Crusher, seconds before engaging in hot lesbian sex.
They're FAAAAAAAAAAAYKE!
They are REEEEEEEEEEAAL!

Vreenak and Benny Russell arguing about Seven of Nine's boobs.
Boobs (also known as boobies, tits, titties, knockers, mounds, jugs, orbs, balloons, bags of mostly water and melons, but never breasts) are the greatest inventions known to man. Without boobs, there would be no reason to exist.
Mere words cannot describe the awesomeness of the boob... so we have PICTURES!!!