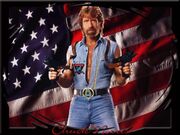 Chuck Norris was a humanoid species.
EnterpriseEdit
Norris was the only real captain of the Enterprise. But then he blew it and went back in time and opened up Chuck E. Cheeses.
You know how God can walk on water? Well Chuck Norris could swim through land! He can also fly, and shoot nacho cheese from his nose! Pretty, awesome, right?
Ad blocker interference detected!
Wikia is a free-to-use site that makes money from advertising. We have a modified experience for viewers using ad blockers

Wikia is not accessible if you've made further modifications. Remove the custom ad blocker rule(s) and the page will load as expected.