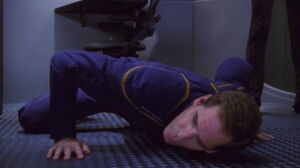 Along with
World War III
, the
Earth-Romulan War
is an event in
Star Trek
's past that
fans
have been wanting to see and learn about since the late
1960s
. And you'd think someone at
Paramount Pictures
would have tried to make money of this at some point since the
Moon Landing
.
And if the "mini-arc" (I like how that term is often spoken with religous reverence) of ENT crapfest Babel On, etc., is spoken from any one of your goddamn mouths, I will personally burn down your home. Or your apartment.
Oh hell, who am I kidding. All the
Enterprise
fans still live in their parents' basements
Coto
worshipping bastards. I don't want to harm your parents, but you've now put them in harm's way. All they ever did for you. And now you've doomed them. Good job.
I may be an embittered man with no sleep for an undetermined period of time, way too much to deal with, and just a goddamn camelhump of fucking caffenine formed towards the middle of my back - but so help me I will erase the entire bloodline of those that spawned you if you dare to insinuate that the Romulan War was touched off by that Holo-Ship Drone/Magic Andorian (AND YEAH I CALLED THAT PASTY FUCKING BLUE MARTIAN AN ANDORIAN) Brain-Driven thing. I will kill every cast and crew member of Trekkdom except for Iggy Pop and Malcolm McDowell if you tell me that's the Federation's start.
I swear to forging GOD.
Ad blocker interference detected!
Wikia is a free-to-use site that makes money from advertising. We have a modified experience for viewers using ad blockers

Wikia is not accessible if you've made further modifications. Remove the custom ad blocker rule(s) and the page will load as expected.