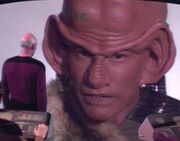 The Ferengi were originally intended to be the new bad guys of the Star Trek universe, but rather than Picard's nemesis, they became the bane of all things Trek. Reduced to Jewish caricatures whose one-liners and puns always revolved around either their enormously large ears or obsession with money, they found their place in Ira Steven Behr's heart and spawned the Ferengi episodes we all came to know and love.
As it would turn out, everything with the Ferengi revolves around their lust for profit and oo-mox. Which is like a hand job, only performed on your ears.
Ad blocker interference detected!
Wikia is a free-to-use site that makes money from advertising. We have a modified experience for viewers using ad blockers

Wikia is not accessible if you've made further modifications. Remove the custom ad blocker rule(s) and the page will load as expected.