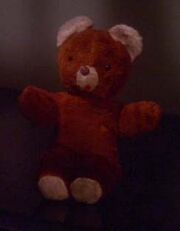 Kukalaka B. Rigsby-Jones III (24 September 1935 - 29 May 2003) was a noted actor, singer, philosopher, philanthropist, chemist, photographer and teddy bear, perhaps most notable for playing himself in Star Trek: Deep Space Nine.
Early Life
Edit
Kukalaka was born in Cornwall, England in 1935. His father, Kukalaka Rigsby-Jones II was town crier. Growing up, he was always much smaller than the other teddy bears and this made him sad, so he decided to become a singer.
Singing Career
Edit
Kukalaka recorded his first, self-titled solo album in 1952. It was met with mediocrity. It was not until 1959 when he dueted with Elvis Presley did he attain mainstream acclaim. His 1962 album "What Do You Mean I'm Only A Bear?" was a smash hit selling over 2 copies worldwide. He released his third album "My Nose May Be Plastic But I Can Still Smell You" in 1967 but it failed to reach the heights of his previous efforts.
Acting Career
Edit
In 1968, Kukalaka had a small part in the Star Trek television series where he played Gary Seven. This part was given to him by his friend Gene Roddenberry. In the 70s, Kukalaka's career took off and for ten years he was one of the biggest movie stars in the world, however he fell from fame when he insulted the Queen of England in 1980.
Kukalaka seemingly dissappeared in 80s only to reappear in 1993 on Star Trek: Deep Space Nine where he took on perhaps his most famous Star Trek role to date, he played Julian Bashir's teddy bear. For several years, he was one of the main staples of the show until he was fired in 1996 for turning up to work under the influence of drink and drugs.
Nevertheless he returned for one episode in 1999, "Kukalaka's Revenge".
Later Life and Death
Edit
Kukalaka continued with several TV appearences in the late 90s, most notably as a stunt double for Dick Van Dyke on Diagnosis Murder. However, it was a well known fact that after his firing from Deep Space Nine, his drug habit became more serious. On 29 May 2003, Kukalaka was found dead in his hotel room in Toronto, Ontario, Canada after a drug overdose.
Despite his troubled end, Kukalaka was still considered an international hero and was given a state funeral which over 60 billion people attended.
Ad blocker interference detected!
Wikia is a free-to-use site that makes money from advertising. We have a modified experience for viewers using ad blockers

Wikia is not accessible if you've made further modifications. Remove the custom ad blocker rule(s) and the page will load as expected.