MAlf:Nominations for administratorship/GNDN sucks
Talk

0
Ad blocker interference detected!
Wikia is a free-to-use site that makes money from advertising. We have a modified experience for viewers using ad blockers

Wikia is not accessible if you've made further modifications. Remove the custom ad blocker rule(s) and the page will load as expected.
FAILED NOMINATIONS
Edit
He goes nowhere and does nothing... precisely the type of person we need on Memory Alfa. Make it so, bitches! --From Andoria with Love 07:33, 25 April 2007 (UTC)
Note that all oppose votes count as support votes.
I DON'T KNOW!!!
Edit
Shran will choose for anyone who adds their name here.
▓OBJECTION!▓
S**T! COME ON! The balls are freaking inert...erm, I mean, yea, GNDN has over 9000 non-existant edits, he definitely deserves this! You shall all vote! - V. Adm. Enzo Aquarius 01:01, 27 April 2007 (UTC)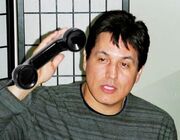 Wait, how exactly did GNDN's nomination fail? Six different people supported him (including himself), no one opposed (it would have done no good!), and I have chosen that everyone listed under "I Don't Know" is in support. And Holy Surak, he's like one of only three people even editing this site right now. All that needs to be done is for the all-mighty one to change his status to admin. So, who's in charge here? Seriously, I don't f---ing remember. Who started this whole thing? Was it Enzo? If it is, let's tackle him! --From Andoria with Love 07:39, May 5, 2010 (UTC)
Hah. GNDN is the Chuckles of MAlf - no one cares about him, and he's only mentioned in the form of cheap jokes. Poor Chuckles... -- Cid Highwind 15:57, May 5, 2010 (UTC)
That's as may be, but the fact is this site is still tangentially connected to Memory Alpha, and the spam makes the mothership look bad. After being dormant for nearly two years, an editor has shown some interest in adding material. I'd like to help. Moreover, the Wikia people are deleting real pages as spam and and welcoming spammers with open arms. There's no one here willing to manage these issues, and I don't want to waste my time unless Enzo or any of the others are interested in keep this place open. -GNDN 16:31, May 5, 2010 (UTC)
Oh... this is a serious suggestion? I thought we're just continuing the joke here. :)
Then, seriously: I agree that this place needs someone helping out against vandalism. That guy should also be someone with at least a bit of a sense of humour - because many of the pages here are as unfunny as it gets. If this is a serious request (for adminship? for adoption? for more activity by others?) though, then this page, which started out as a joke several years ago, isn't quite the correct place to ask for it. -- Cid Highwind 19:06, May 5, 2010 (UTC)
I take your point, Cid, but my request under more conventional channels have been ignored. Whatever you (and whomever might be interested), get a hold of a sysop or a bureaucrat would be apreciated. --GNDN 20:32, May 5, 2010 (UTC)