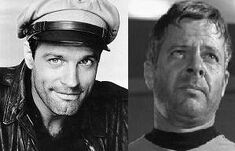 Commodore Matt Decker was freaking awesome. He was a Starfleet commander who went off his nut after witnessing a big metal tadpole kill his entire crew. Man, did he go out with a bang. (TOS: "A Stargram to a Gentleman in the Country, from his friend on Rigel: giving an authentick and circumstantial account of the confinement, behaviour, and death of Commodore Decker, as attested by the gentlemen who were present").
Decker was played by the doctor from "Murder, She Wrote".
Ad blocker interference detected!
Wikia is a free-to-use site that makes money from advertising. We have a modified experience for viewers using ad blockers

Wikia is not accessible if you've made further modifications. Remove the custom ad blocker rule(s) and the page will load as expected.