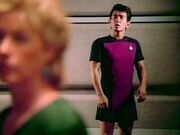 A skant was a unisex item of uniform haberdashery used by Starfleet in 2364. It was quickly discarded when the Lords of the Admiralty realized that the glory days of the late-23rd century were long gone and that not one man could be seen in a skant without peals of ill-stifled laughter being heard throughout any given ship or starbase.
In short: HA HA HA HA HA HA HA HA HA HA!
Ad blocker interference detected!
Wikia is a free-to-use site that makes money from advertising. We have a modified experience for viewers using ad blockers

Wikia is not accessible if you've made further modifications. Remove the custom ad blocker rule(s) and the page will load as expected.