| | |
| --- | --- |
| | This article is as real as your so-called life gets. |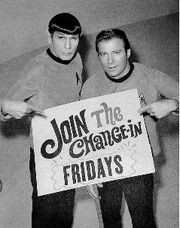 What can you say, really? The cast and crew knew they had been pink-slipped, and it shows.
This article is a stub because the previous author was too damn lazy to finish it.
Background Information
Edit
The entire crew was disappointed with this year of their five-year mission so they decided to call it quits, later they would finish the last two years in a lame educational cartoon.
Having returned from the future, Gene Roddenberry changed the title color to light blue in order to save money for his future project: Attack of Bald Frenchmen.
Kirk lost his shirt and was forced to walk around topless until the entire male crew got together and made him a new shirt so that they could get some action for once.
Gene Roddenberry left the show for more profitable ventures, like porn, drugs, and illicit affairs.
Ad blocker interference detected!
Wikia is a free-to-use site that makes money from advertising. We have a modified experience for viewers using ad blockers

Wikia is not accessible if you've made further modifications. Remove the custom ad blocker rule(s) and the page will load as expected.