| | |
| --- | --- |
| | This article is as real as your so-called life gets. |
While investigating an 18-year old, Captain Trout is captured by Talosians.
SUMMARY HERE
Links and References
Edit
Main Cast
Edit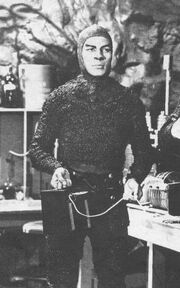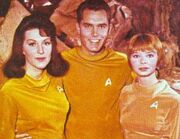 !!!Guest Stars
Susan Oliver as Vina
Clegg Hoyt as Transporter Chief Pitcairn
Malachi Throne as The Keeper's Voice
Mike Dugan as Kaylar
Georgia Schmidt as 1st Talosian
Robert C. Johnson as 1st Talosian's Voice
Sande Serena as 2nd Talosian
Barker as Talosian female
Leonard Mudie as Survivor #2
Anthony Jochim as Survivor #3
Ed Madden as Geologist
Robert Phillips as Orion Space Officer
Joseph Mell as Earth Trader
References
Edit
COMMA SEPARATED LIST, ALPHABETICAL ORDER
Other Notes
Edit
For more than four decades, the original answer print of this episode has been lost. In a Memory Alfa exclusive, that print has been found and is presented here for your viewing pleasure: "The Cage"
This article is a stub because the previous author was too damn lazy to finish it.