| | |
| --- | --- |
| | This article is as real as your so-called life gets. |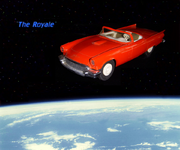 The Royale was an episode of TNG that looked as if it was part of an American detective television drama series that might have aired on ABC between 1978 and 1981. It was not produced by Aaron Spelling.
The show starred Robert Urich as private dick Dan Tanna, who flew around the stars in a runabout modified to look like a red 1957 Ford Thunderbird, solving crimes and making the Federation a better place for residents and tourists alike.
The episode (with the exception of special scenes in Hawaii & San Francisco), was filmed in its entirety in Rick Berman's garage.
Ad blocker interference detected!
Wikia is a free-to-use site that makes money from advertising. We have a modified experience for viewers using ad blockers

Wikia is not accessible if you've made further modifications. Remove the custom ad blocker rule(s) and the page will load as expected.