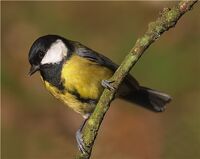 Tits.
Half the universal population have them.

Usually found in it's plural form, tits are one of man's best friends, and perhaps the meaning of life. A tit is a device primarily used for the feeding of young offspring, and in foreplay.
In her autobiography, Doing the Delta Quadrant, Captain Kathryn Janeway states that her primary reason for "rescuing" Seven of Nine from The Borg was:
"frankly because of her awesomely mind-blowing rack."
Jonathan Archer only allowed women to serve aboard Enterprise who he deemed to have REAL tits.
Apocrypha
Edit
Did you know... Not dissimilar from their ears, Vulcan females also have slightly pointed baps. Trip certainly does.
English Naturalist Charles Dickens was rather fond of Tits. However, it turned out he preferred Finches.
Ad blocker interference detected!
Wikia is a free-to-use site that makes money from advertising. We have a modified experience for viewers using ad blockers

Wikia is not accessible if you've made further modifications. Remove the custom ad blocker rule(s) and the page will load as expected.