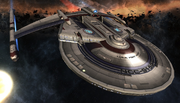 USS ENTERPRISE (ADG4) WAS LAUNCHED IN 2709 BY THE FEDERATION. IT WAS THE MOST ADVANCED SHIP OF IT TIME! IT HAD 189,023 DECKS AND CARRIED 1 MILLION PERPLE. IT DESTROYED ALL THE BORG SHIPS THAT INVADE THE FEDERATION SPACE IN THE FIFTH BORG WAR.
It was under command of Robert DeSIOS.
Ad blocker interference detected!
Wikia is a free-to-use site that makes money from advertising. We have a modified experience for viewers using ad blockers

Wikia is not accessible if you've made further modifications. Remove the custom ad blocker rule(s) and the page will load as expected.